Perfection depilation kit (3 pieces).
Perfection depilation kit,Cream - 75 ml tube, lotion - 100 ml bottle, spatula, 3 pieces.
Please note that Perfection depilation kit is produced only by the Russian company Hendel, LLC.
We buy it directly from the manufacturer and we guarantee that you are buying an original product.
Description
The kit is designed for effective removal and slowing down the growth of unwanted hair on the legs, arms, sensitive bikini area and underarms. The cream provides a feeling of tenderness and softness, quickly and carefully copes even with coarse hair. Depilation using the Perfection cream takes only 5 minutes, and the skin will surprise you with its smoothness and silkiness. Extracts of Aloe and Cucumber included in the cream composition soften, moisturize and refresh the skin. The lotion soothes the skin, intensively moisturizes it, and the special natural ingredient from Myrica Leaves and Myrica Flowers slows down the growth of unwanted hair thus reducing the number of depilations. Besides, the lotion prevents the ingrown hair.
Active ingredients
Cream: Hops Extract, Sage Extract, Cucumber Extract, Aloe Extract, White Mistletoe Leaves Extract, Papaya Leaves Extract.
Lotion: Telocapil (Myrica Plant Leaves, Myrica Plant Flowers).
 Mode of application
Apply the cream on the skin in an even thick layer using a spatula. After leaving in for 5 min, clean a small area with a spatula. If the hair is easily removed, scrape all of the previously applied cream along with the hair and thoroughly wash the depilated area with cool water. If the hair is not completely removed, let the cream stay on skin for another 5 min. Apply the lotion 1-2 times a day onto clean and dry depilated zones. Do not rinse! The recommended course is 10-15 days after depilation. The cream contains thioglycolate. Perform a sensitivity test before using the cream: apply a small quantity of the cream on the skin of the inner elbow and rinse with water after 10 minutes. If there are no unpleasant sensations the next day, you can safely use this hair removal cream. Use the cream only as directed. Do not use the cream on injured or inflamed skin or immediately after the heat bath. If any discomfort or irritation develops remove the cream immediately and rinse the skin with water.
 Product form/Packaging Cream - 75 ml tube, lotion - 100 ml bottle, spatula
Shelf life 30 month
Buy with this item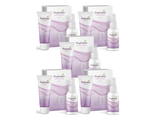 Perfection depilation kit (5 pieces)
$160 $136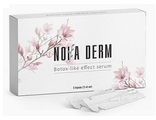 $47 $31