Smoke Out oral spray (5 pieces)
Smoke Out oral spray, 30 ml, 5 pieces.
Please note that Smoke Out oral spray is produced only by the Russian company Hendel, LLC.
We buy it directly from the manufacturer and we guarantee that you are buying an original product.
Description
Smoke Out spray refreshes breathing, and its components eliminate the unpleasant odor from mouth after smoking. The spray contains extracts of Sophora fruit, Tobacco leaves, Plantain and Licorice. Sophora appears to be a natural source of cytisine, a substance that contributes to the withdrawal from smoking, and the extract of Tobacco leaves is known for its nicotine-like action. The natural extracts of Plantain and Licorice moisturize, soften and protect the oral mucosa.
- Does not contain ethanol
- This is not an aerosol
- Does not contain sugar.
Active ingredients
Extracts of Plantain, Licorice Root, Thyme Leaves, Sophora Fruit and Tobacco Leaves.
 Mode of application
Spray into the mouth cavity by pressing 1-2 times on the dispenser. Take whenever you want to smoke. Avoid contact with eyes and clothing.
Product form/Packaging Plastic bottle with sprayer / 30 ml
Shelf life 24 months
Buy with this item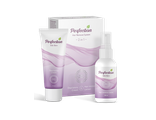 $54 $39